Partnerships with our sponsors are vital to the success of the Lorain County Fair and beneficial to our sponsors with exposure to a wide variety of people and ages. Average attendance at the fair is 160,000.
Choose from our list of sponsorship opportunities or call Charisse at the office to design a package that suits your specific needs. Thank you for supporting your county fair!
View the Sponsorship Form for the full listing of sponsorship opportunities!

Friday Sponsor of the Day:
LMRE
Some sponsorships available are listed below – download our sponsorship form for a complete list.

Friends of the Fair – $100
Sponsor name is listed on this page and in our premium book as a "Friend of the Lorain County Fair" (to be listed in the premium book, payment must be made by April 15).
Parking Barrels
$65 first year, $10 renewal each year
Sponsor name is placed on a parking barrel to be used in the parking lot during fair week.
Premium Book Advertisement
$90 half-page – $150 full-page
Sponsor provides ad content to be placed in the advertising section of the premium book, which is distributed to those who buy membership tickets or submit entries. More than 2,500 premium books are distributed.
Specifications:
To appear correctly in the book, ads must be submitted as high-resolution (300 ppi or higher).  JPG file preferred. Half-page ads must be sized at 3.5″ wide by 3.25″ high. Full-page ads must be sized at 3.5″ wide by 6.5″ high.  Ads are in color on our website and black & white in the premium book.  All ad copy must be submitted by April 15.
Picnic Tables/Benches – $150 – WE ARE NO LONGER TAKING FAIR BENCH ORDERS
Choose a name plate for a picnic table or routered name for a bench placed throughout the fairgrounds for visitors to sit, relax, and enjoy the fair.
Pony Ring/Horse Banners – $150/year
Sponsor provides banner to display in a panel around our horse/pony rings during fair week. Limited number available. Must make a three-year commitment with 20% down for second and third year.
NTPA Tractor Pull Scoreboard – $250  **NEW**
Your name and logo continuously displayed through the night on the scoreboard at end of the pulling track for the Friday evening tractor pull.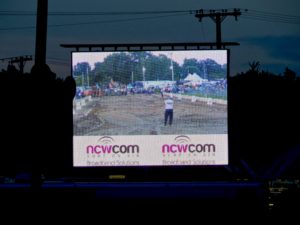 Senior Citizens Day Promotional Table (Thursday) – $200 (or $100 add-on if you have a fair booth)
Space available on Senior Citizens Day under Pavilion 1 from 10 am – 3 pm to hang a banner or sign and pass out promotional material.  Table and chairs and 4 one-day gate admissions included.
Free Entertainment Schedule – $300
Sponsor provides logo to be added to the flyer listing our free entertainment – available at the gates and office and for download on our website.