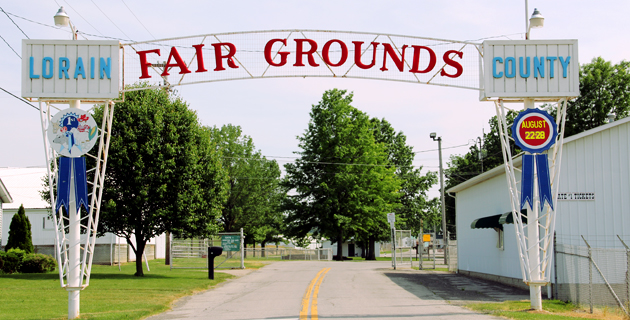 The Lorain County Fairgrounds is located off SR 18 on the west side of Wellington.
Mission Statement:
To enhance Lorain County through an annual celebration promoting agriculture, education, entertainment, and encouraging positive youth development and leadership skills.


Information is updated for 2015
as it becomes available.  
Much information (the premium book,
entertainment, contests) may not
be available until May.
Most information is current
by June 1.
Any checks returned as NSF or
for any other reason will be
assessed a $25 fee or 5%
(whichever is greater).
List of Ohio Fairs
Fair Week Schedule**
T-Shirt & Sweatshirt Info
History of the Fair
Fairgrounds Map     
2015 FAIR PRICES
Gate Admission:  $5.00
Credit/Debit Cards will be taken for gate admission at Gates 1, 3, 4, and 6 – windows will be marked specifically "Credit/Debit Cards" or "Cash Only" sales.
Children 8 & Under:  FREE
Senior Citizens (65+): 
FREE – All day Thursday
Free wheelchairs available at Gate 4 on first come, first serve basis
Veterans & Military:
FREE – Thursday with proper ID
Parking:  FREE
Season & Membership Passes:
$25.00 for 7 entries to the fair
       **a savings of $10**
Membership pass allows Lorain County residents age 21+ to vote for directors. Sale of passes ends Sunday before fair.
MIDWAY RIDES by BATES BROTHERS:
Tickets: $1.00
Required tickets posted on each ride
$20.00 Unlimited Ride Stamp:
Monday, Thursday, Friday & Saturday:  1-10 p.m.
$15.00 Kids' Day Special:
Tuesday & Wednesday: 1-10 p.m.
Sunday: 1-9 p.m.
President: Kim Meyers
Vice President: Brian Twining
Secretary: Charisse Nikel
Treasurer: Doug Allen
2015 Executive Board Member:
Marie Waite
2016 Executive Board Member:
Chris Zurcher
2017 Executive Board Member:
Craig Norton
Immediate Past President: Rick Ternes